2022/11/22

  【Sale #221201】Unique works by Monet and Picasso, as well as popular works by contemporary artists such as Lichtenstein and Ayako Rokkaku, to be auctioned at the December 1st
We will hold the "Modern & Contemporary Art Auction" on December 1st, 2022, at 2:00 p.m JST.
The auction will feature notable works from a total of 227 lots.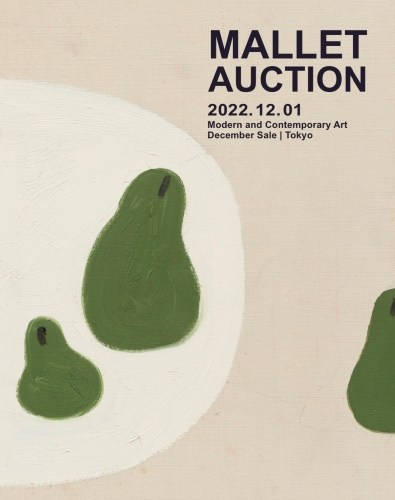 The cover of this sale catalog features "An Orchard of Pears, No.1" by William Scott (1913-1989), LOT 222.
William Scott was born in Scotland in 1913 and studied at art school as a teenager.
In the 1950s, he moved to the U.S., where he interacted with artists such as Jackson Pollock and Mark Rothko. And while being exposed to abstract expressionism, he developed his own unique style of painting.
Around 1975, when he painted the present work, he established a style, combining figuration and abstraction in a single work with bold margins, simple color and form, and a tightly arranged composition.
He has become a beloved artist, especially in the United Kingdom, where he was visited by Queen Elizabeth II at his solo exhibition in Ireland in 2009.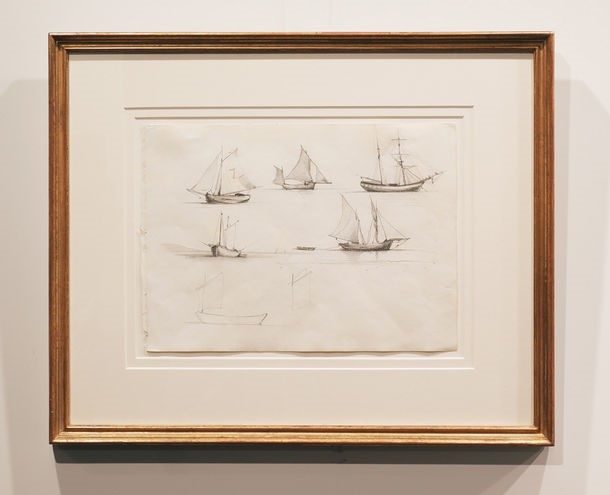 Next on display is a unique work by Claude Monet (1840-1926), a French painter representing Impressionism.
As a young man living in a port town, he often depicted estuaries and boats as motifs in his paintings. LOT 226, "Divers Bateaux," is a drawing of a ship that Monet painted in his teens around 1857.
Although it is a small work, it depicts the details of the ship and shows the artist's advanced skills.
This is a rare and valuable opportunity for Monet's sketches to be auctioned in Japan.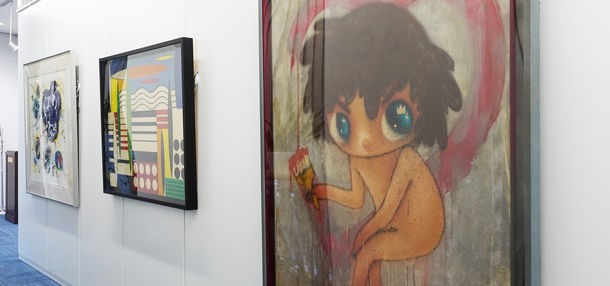 Next is LOT 147 "LOVE FIGHTERS" by Ryol (1993-), an Indonesian artist selling for the first time at a Japanese auction.
As the artist himself states that he was greatly influenced by Yoshitomo Nara, his pop style absorbs Japanese anime culture, but he also raises issues about
contemporary society, such as consumerism and gender. The boy who draws a
careless heart on a dirty wall seems to question the viewer's attitude toward the
innocent and vulnerable.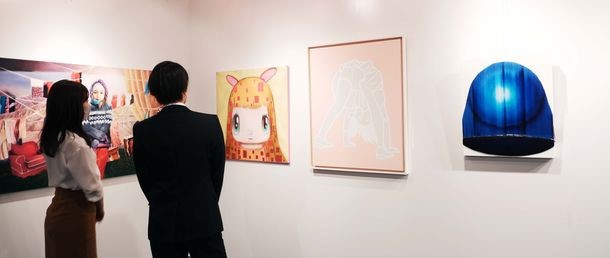 We also feature four canvas works by Kei Imazu (1980-), who has attracted much attention this year for her style of creating virtual worlds using images and familiar motifs from the East and West.
All of the works were created between 2008 and 2009, and can be said to represent the early stages of her career before she established her artistic expression.
In recent years, she has moved to Indonesia to further expand her international activities.
Other artists included for the first time at Mallet Japan: Yutaka Hashimoto, who creates experimental paintings based on symbolic characters expressed through repetitive brush strokes, and Naoki Onogawa, who creates sculptures using tiny origami cranes made of 1 cm square paper, and so on.
■
List of Works
■
Digital Catalogue
Please check the condition of the items at the pre-auction viewing and in the condition report on the website before bidding.
Mallet Japan has introduced its own online bidding system (ONLINE LIVE BIDDING).
You can easily participate in auctions even when you are away from home via your PC/smartphone.
Web membership registration is required to participate, and applications for each auction are accepted until 6:00 p.m. the day before the sale date.
The auction will be held on Thursday, December 1st, 2022 at 2:00 pm.
Pre-bidding and telephone bidding applications will be accepted until 6:00 p.m. on Wednesday, November 30th.
For Auction participation, free member registration is available at any time from the Mallet Japan website.
The latest information is being updated on Mallet Japan's SNS accounts (Instagram,Twitter, Facebook, and LINE).