2022/04/19

  ONLINE LIVE BIDDING system
Thank you for your continuous support.
Mallet Auction is pleased to announce that we are launching a brand-new
ONLINE LIVE BIDDING
system in May 2022.
In our auctions in the past, bidders could join only via Invaluable, an online auction platform, other than by telephone or absentee bids form.
In order to meet our customer needs, we have developed our own system.
Through the system, you may easily bid with us anywhere by using your computer, smartphone or tablet.
You are required to
register as our WEB member
to participate through our ONLINE LIVE BIDDING system.
An application before each auction is also required to bid through the platform. Please apply in advance on your online account page not later than 6:00pm one (1) business day prior to the date of the auction.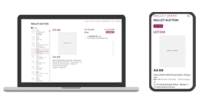 You may find the user guide in the following links:
ー
in PDF (English)
ー
in PDF (中文)
ー
in video(English)
ー
in video (中文)
Recommended System Requirements
In spite of that this system is intended to be accessible with the latest versions of browsers, e.g., Chrome, Safari, Edge, Firefox, etc., web performance including latency may vary depending on the usage environment. Please note that we do not guarantee that the system will display properly.