2023/03/13

  Auction report - Sale#230302 and M-Live on 2 March
On Thursday, March 2, the Modern and Contemporary Art Sale #230302 and M-Live Auction were held at a venue in Tokyo.
M-Live, which was held for the first time, is an online-only auction, mainly focusing on contemporary artworks. In addition to artists whose works we have already sold, we actively included works by contemporary artists such as Chiharu Kihara, Sakuraoka, and David Shrigley, all of whom were put in the auction for the first time at Mallet. In the auction day, LY's canvas work and prints by Ayako Rokkaku, Backside works, etc., showed good results. We will continue to aim for sales that stimulate the art market by handling young artists and disseminating their works at future auctions.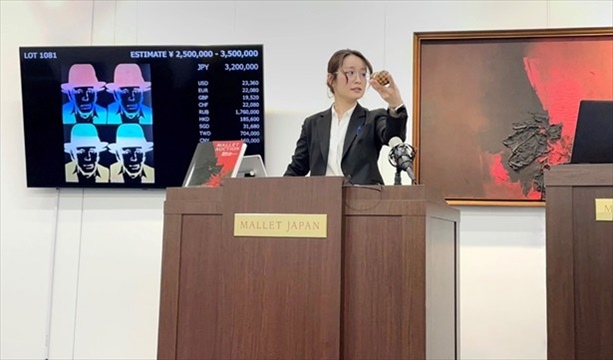 M-Live Auction
Online Live Bidding, which allows users to place bids via smartphone, tablet and PC has seen an increase in the number of users since its introduction last year, and approximately half of the lots in the two sales in March were sold using this bidding method.
The platform continues to be updated each time, with the addition of a new "bid in advance" feature this time. We hope you will try out the more convenient Online Live Bidding.
In the following report, we will introduce some of the works that attracted particularly strong bids from among the 261 lots in the two sales.
One print by Andy Warhol was the focus of great interest both at home and abroad. This print, one from a series on the subject of endangered species, depicts threatened animals in the vivid colors that Warhol is known for, emphasizing the existence of the species. In addition to the "Orangutan" in this lot, we have a history of sales of several other images, including a bald eagle, Siberian tiger, and African elephant.
This lot received many inquiries prior to the sale, resulting in a successful bid of 22,000,000 JPY.
Another silkscreen work by Warhol, "Joseph Beuys: state II," was offered at the first-ever M-Live Auction and sold for 3,300,000 JPY.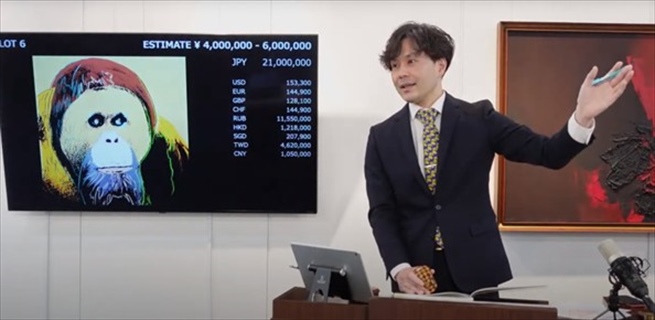 Lot 6 Andy Warhol , "Orangutan, from 'Endangered Species'",
screenprint in colours, 1983
Estimate 4,000,000-6,000,000 JPY Sold Price 22,000,000 JPY
Lot 123, by Luis Feito, was one of the featured works on the cover of the catalog. Feito, who contributed to the development of abstract painting in Spain and was also active in France, worked from his studio in Madrid until his passing in 2021 due to Covid-19.
Although the condition of this 60-year-old canvas work has changed over the years, it retains the intensity of the "red" and "black" colors that the artist valued throughout his life; hence, the quality of the actual piece shines through. European customers showed great interest in the piece, bidding up to 3.4 times the lower price of the Estimate.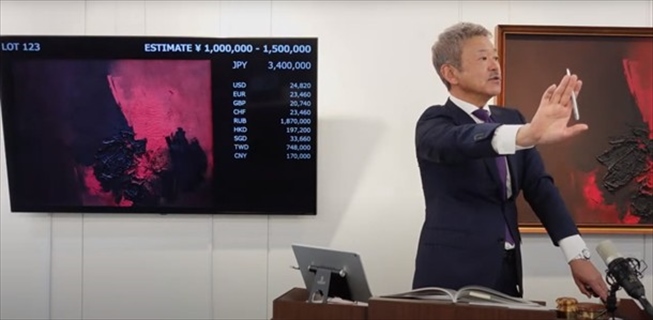 Lot 123 Luis Feito, "Base-226", oil on canvas, 1961
Estimate 1,000,000-1,500,000 JPY Sold Price 3,400,000 JPY
In total, we received inquiries and participation from 26 countries for both sales. The following works were mainly boosted by the participation of international customers.
-Lot 113 Géza Vörös, "Still-Life with Demijohn and Eggplant", oil on canvas, early 1930s
Estimate 400,000-600,000 JPY Sold Price 2,100,000 JPY

-Lot 117 Nuri Abaç, "Market", oil on canvas, 1983
Estimate 200,000-300,000 JPY Sold Price 2,000,000 JPY

-Lot 124 Sayed Haider Raza, "Untitled, 1960", gouache on paper, 1960
Estimate 1,500,000-2,000,000 JPY Sold Price 6,600,000 JPY
The Company also continues to sell popular artists such as Yayoi Kusama and Yoshitomo Nara. This time, good woodblock prints have recorded a high growth rate from the lower estimation.
-Lot 12 Yayoi Kusama, "All things full of kindness touched my heart", Woodcut, 2015
Sold at 6,400,000 JPY

-Lot 14 Yayoi Kusama, "The Sun", gouache, ink, pastel and collage on paper, 1980
Sold Price 9,000,000 JPY

-Lot 52 Yoshitomo Nara, "After the Acid Rain (Night Version)", woodcut, 2010
Sold Price 7,000,000 JPY

-Lot 53 Yoshitomo Nara, "Star Island", Silkscreen, 2003
Sold Price 3,600,000 JPY
A large work by Toshimitsu Imai, who was also active as painter of "Art Informel" was included as in the last sale. This lot sold for 1,700,000 JPY, approximately 4.3 times the lower estimate of 400,000-600,000 JPY. In our auction history over the past several years, many of the artist's works have sold for more than the expected price.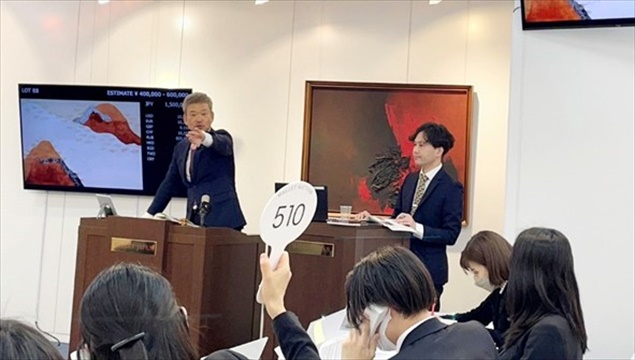 Lot 88 Toshimitsu Imai, "River in the mountain depths", acrylic on canvas, 1983-84
Estimate 400,000-600,000 JPY Sold Price 1,700,000 JPY
The other noteworthy results:
-Lot 109 LeRoy Neiman, "Golf Winners", oil on board , 1984
Sold Price 4,000,000 JPY

-Lot 114 Paul Aïzpiri, "Pot de fleur", oil on canvas
Sold Price 1,250,000 JPY

-Lot 141 Marc Chagall (After) , "Soleil couchant, from 'Nice and the Côte d'Azur' (by Charles Sorlier)", 1967
Sold Price 1,900,000 JPY
We are going to hold the second M-Live Auction as well as the regular sale in May, and now inviting consignments.
Please feel free to apply for a free appraisal.
---
【Next Auction Schedule】

 Date:May 18, 2023 (Thursday)
 M-Live Auction (Online only) and Regular sale
 Submission deadline: Late-March
Please feel free to ask us the estimates and authenticity of your artworks via
Valuation Form
.
It may take some time for us to reply, so please contact us well in advance.