2022/12/12

  Sale#221201 Auction Report
On December 1, we held our last sale of the year, the "Modern & Contemporary Art Auction ". The sale consisted of 227 lots of domestic and international works, and the total amount sold was 158.94 million yen (not including commission fees, same below). This sale report introduces the lots that attracted the most bids, as well as the results of the auction.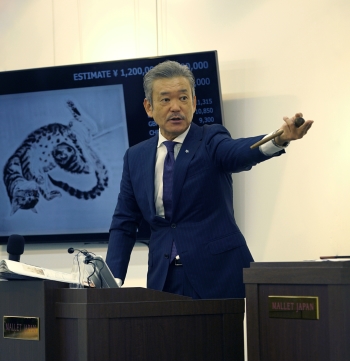 The most exciting sales at this auction were the works of international artists such as Henryk Berlewi and Sakti Burman. Berlewi's painting has been exhibited numerous times and has traveled around the world as one of the most important works by the artist. The low price point of the estimates also made it possible for more bidders to participate. The ratio of the hammer price to Estimates was one of the highest of any sale in recent years, with the artwork sold at 32 times the estimates lower limit.
Mallet Japan also pays attention to works by artists from India and other South Asian countries. The Sakti Burman artwork, which was offered at this sale, received many inquiries from local customers before the auction, and the result was approximately 5.5 times the lower estimate. In addition to this sale, we have also sold works by Asian artists such as U Lun Gywe, Paritosh Sen, Senaka Senanayake, and Bui Huu Hung, many of whom have achieved good results.
Lot 218 Henryk Berlewi ≪Méditerranée Opus II≫ oil on canvas
Estimate: 300,000-400,000 JPY Sold Price 9,600,000 JPY

Lot 216 Sakti Burman≪Les Musiciens≫ oil on canvas
Estimate: 600,000-800,000 JPY Sold Price 3,250,000 JPY
We provide a wide range of support services for overseas customers; market research, importing artworks and promotion of them for the consignors, and registration assistance and shipping arrangement after successful bids for the buyers. So please contact us if you are interested in selling with us or bidding in the auction.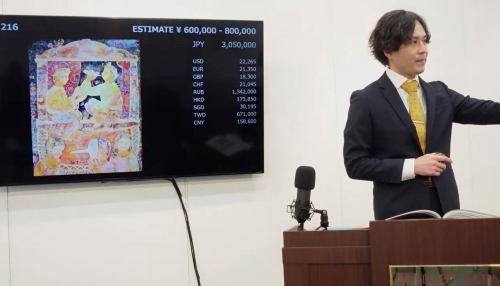 One work by On Kawara, who is known for his conceptual art and is highly acclaimed worldwide, was also included. This work is part of a series of postcards that he sent over a period of about 10 years, in which he wrote down his time for waking up. This piece sold for 3.8 times the lower estimate.
Lot 181: On Kawara from the ≪from 'I Got Up'≫ stamp on postcard
Estimate: 500,000-800,000 JPY Sold Price 1,900,000 JPY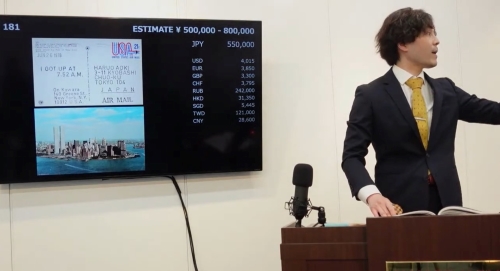 In addition, four large works by Kei Imazu, continuing from the previous sale, were included, and the actual works hanging in the auction hall attracted a great deal of attention.
In particular, "Archive," featuring a girl and objects scattered around her like fragments of her memories, sold 2.7 times the lower estimate.
Lot 172: Kei Imazu ≪Archive≫ oil on canvas
Estimate: 700,000-1,000,000 JPY Sold Price: 1,900,000 JPY

Lot 173 Kei Imazu≪Melt City≫ oil on canvas
Estimate: 1,000,000-1,500,000 JPY Sold Price 1,600,000 JPY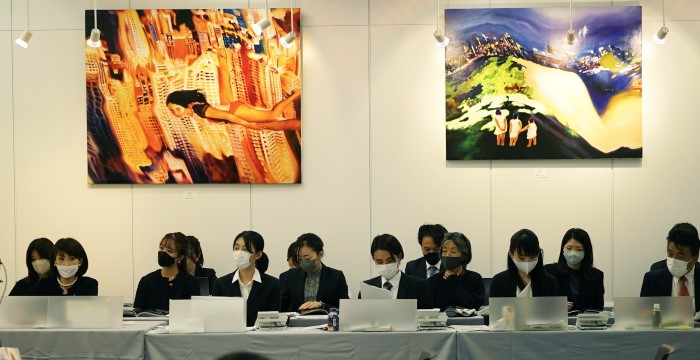 The top lots were dominated by works of Yayoi Kusama and Lee U-fan, who represent Japan, and unique works by Pablo Picasso, Claude Monet, and others. The results are as follows.
Lot 26, Yayoi Kusama ≪Lemon Squash≫ screenprint in colours
Sold Price 5,600,000 JPY

Lot 29 Yayoi Kusama ≪Mt. Fuji, I Love≫ woodcut in colours
Sold Price 7,200,000 JPY

Lot 38 Lee U-fan≪Dialogue 2019 C≫ lithograph in colours
Sold Price 4,200,000 JPY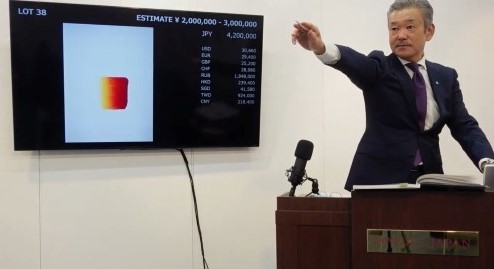 Lot 158 Ayako Rokkaku≪Work≫ acrylic on cardboard
Sold Price 6,400,000 JPY

Lot 31 Yusuke Hanai≪Untitled 1≫ assembled sixteen woodcuts in colours
Sold Price 200,000 JPY

Lot 226 Claude Monet ≪Divers Bateaux≫ pencil on paper
Sold Price 3,800,000 JPY

Lot 227 Pablo Picasso ≪Femme nue assise, les jambes croisées≫ ink on paper
Sold Price 4,800,000 JPY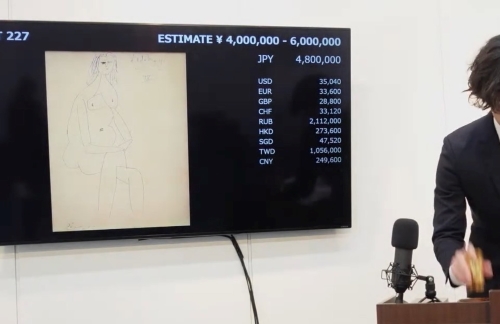 Our next auction is scheduled for March 2nd next year. We are currently accepting entries, so please feel free to apply for an appraisal.
【Next Auction Schedule】
Date:March 2nd, 2023 (Thursday) 14:00-
Submission deadline: Mid-January
Please feel free to ask us the estimates and authenticity of your artworks via
Valuation Form
.
It may take some time for us to reply, so please contact us well in advance.