2021/02/24

  Haruki Murakami March Special Sale; from Kurokochi Collection
Mallet Auction Special Sale that features autographed books and handwritten manuscripts will be held on 20th March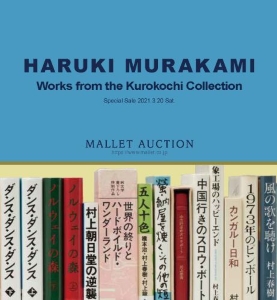 In this auction 98 lots will be offered, all of the items are valuable and hard to reach in the market. The lots including Murakami's novels, translations, and essays signed by him, 35 records actually played at the jazz bar 'Peter Cat' he ran before his debut; illustrations and prints for book designs, related journals, and 22 lots of highly rare handwritten manuscripts of translations and essays.
All these items have been collected over the years by Mr. Shun Kurokochi known for his private collection of Yoshitomo Nara.
There are about 50 lots of signed books, including 'Hear the Wind Sing' and 'Pinball, 1973' from his early trilogy, 'Hard-Boiled Wonderland and the End of the World' with preface and autograph, also his popular essay 'Murakami Radio', and 'A Slow Boat to China'. The handwritten manuscripts include two drafts of translations for Raymond Carver whom Murakami first introduced to Japan, two drafts of translations for Paul Theroux's works, 13 drafts of the essay 'A Wild Cinema Chase', and two drafts of essays from the 1980s magazine 'DOLIVE'.
Other items include columns, essays, a number of magazines of the time with feature articles on the artist, original drawings by Mizumaru Anzai, and prints by Ayumi Ohashi.
■Auction info
March 20th Sat. 2021 at 14:00 JST
Anyone can participate in the auction by registering.
Please feel free to contact us if you would like a copy of the catalog with all the works on display.
Online members can leave absentee bids and telephone bid requests on member page.
Bid registration deadline: 19th March 2021, 18:00 JST
■Location
Mallet Japan Auction House, Tokyo
1F Toyocho AXIS Bldg.,
3-22-6 Toyo, Koto-ku, Tokyo, Japan 135-0016
■Contact
Email: :
special-sale@mallet.co.jp
Tel: +81-3-5635-1777
■
Online catalog